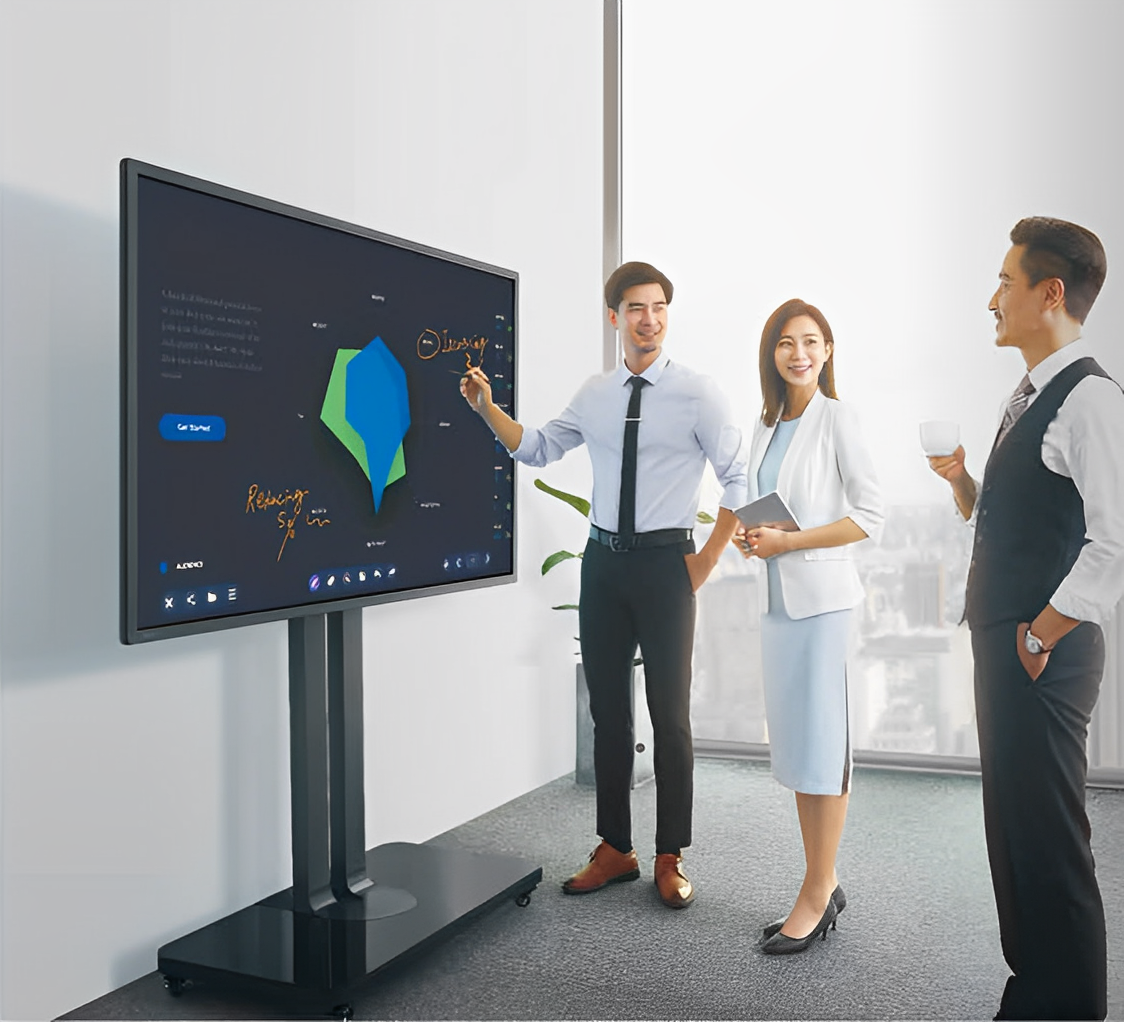 THE NEWIMAGE OF HIGH-END CONFERENCE
The design comes from European design masters. It has obtained a national patent and can help U pgrade conference room image.
---
REMOTE CLOUD CONFERENCE ZERO DISTANCE COLLABORATION
The unique cloud conferencingsystem supports screen sharing with mobile phone, tablet, computer, and interactive flat panel without space Itcan realize real-time, smooth, face-to-face communication, sharing and collaboration through two-way touch screen.
WIRELESS SCREEN MIRRORING - EASY TO SHARE Wireless screen mirroring, Easy to display content The Horion interactive Rat panel brings a new way of interaction. It supports screen mirroring with computer, mobile phone and tablet to facilitate better conference display, information sharing and communication.
Mirroring PC to interactive flat panel
1. Insert the screen mirroring device into interactive Hat panel fr)r pairing;
2. Insert the paired screen mirroring device into the laptop,
3. Click the screen minoring device to get started
Mirroring iPaid, mobile phone to interactive fiat panel
For Android mobile phone, an app must be downloaded Ixforernirroring, For Phone and iPad, use its own screen mirroring function to interact with the conference interactive flat panel
3G RAM
G RAM for M3A, powerful multi­tasking
capability, easy to open all kinds of documents and applications
32G ROM
32G ROM provides more room for all applicable conferencing software.
Android 8.0
The built-in Android 8.0 operating system provides stable operation and powerful processing capability,

Windows 10
Windows 10 module is optional for Android and Windows dual system configuration,
Highlights
Bluetooth
Connect mobile phone or iPad to the interactive flat panel via Bluetooth for wireless data transmission
Lock screen
One tap to enter the screen standby mode, and the lock screen password can be set for safety reasons; and a nother ta p to wake up the screen. Suitable for the coffee break or pause during a meeting.
Timer
Record the duration of the meeting. The APP can be moved anywhere on the screen, and participants can always keep track of the time.
Connect the printer
Connect the printer to the interactive fiat panel to print and distribute paper documents duringthe meeting.
WPS
WPS can open multi-format files, like PPT, PDF, etc., support multi-Language, and can be annotated in any channel.
Whiteboard sharing
Share real-tirne whiteboard with remote video function off. This facilitates cross-region meetings and training, and saves travel expenses.
Voting result display of vote kit
Choose the Vote & Score mode. Participants can vote anonymously to ensure that the voting is fair and equitable; then it will generate a column chart automatically to present the results.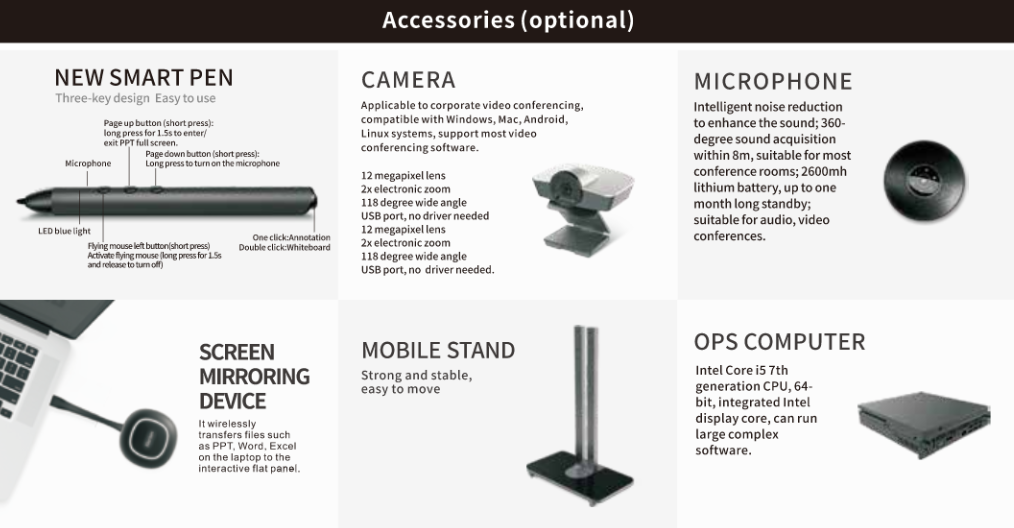 Product characteristics
1. System properties
• Equipped with Android 8.0 Smart OS and a unique user interface design;
• 3GB internal cache + 32GB internal storage, for faster operating speeds;
2. Exterior and smart touch:
• The exterior features four minimalist arc-shaped edges; the WIFI and Bluetooth antennas adopt a
forward, hidden design;
• Front-disassembly, high-precision, infrared touch frame with touch precision of ± 1mm and touch height
of 2.0mm, highly sensitive, supports 20 touch points;
• Equipped with an OPS interface and a scalable dual system; a dual USB interface with dual system
compatibility; a dual network interface for device switching;
3. Whiteboard writing:
• High performance writing software that supports single and multi-point writing with improved writing
effects with the pen, so that users can annotate on any interface and any channel;
• Uses AG anti-glare tempered glass, with a Mohs hardness scale of 7, providing a better writing
experience;
4. Conference training:
• Built-in dual 2.4G/5.8G frequency, dual network cards, supports simultaneous use of the wireless
network connection and WiFi hotspot;
• Bluetooth function to connect wirelessly with and transfer data to phones, speakers, and other
Bluetooth-enabled devices; supports wireless connection with printers for printing documents;
• Wireless screen-casting, supports casting to multiple screens, features reverse mirror control, remote
snapshots, file sharing, wireless speaking, wireless control, etc.;
• Built-in WPS, conference timer, welcome remarks, scoring and voting systems, and other
high-efficiency conferencing software;
5. Commercial display:
• High definition image processing engine: image motion compensation, color enhancement processing,
point-to-point precision technology;
• All-channel output function: real-time, high-definition, stable, and low-latency output to expansion
units;
• Featuring an all-new welcome screen, live apps, background music, and wall messaging;
• Customized boot screens; the local media player supports automatic classification to meet the needs of a
variety of occasions;